Whether you already own a Karelian and still have unanswered questions or you are considering adding a Karlian to your family, we are happy to share what we know in the hopes that life with your Karelian will be a rewarding one.
"Not good with children," say Dogs 101 and Animal Planet
We say, NOT TRUE
In our experience Karelians from responsible breeding and a good home are naturally gentle around children (and in our household, even our baby kittens).
Our Karelians have never showed aggression toward a strange child or a curious kitten. As one should be with any dog, we are cautious when first making introductions to a young Karelian. Without exception, our Karelians have demonstrated an innate ability to distinguish the welcome visitors and household pets from prey. :)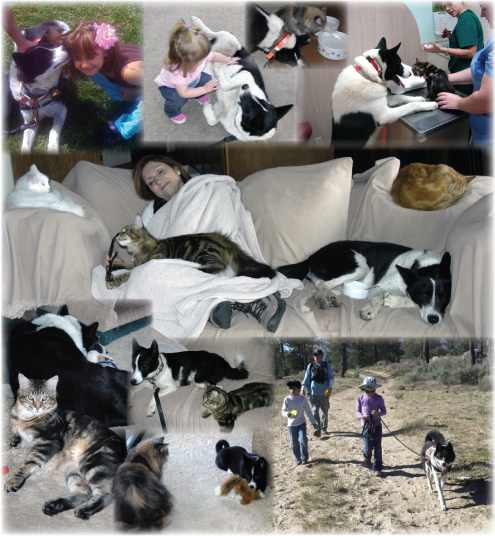 Safety and health
Since we travel regularly with Karelians and ship our dogs to some remote areas, our dogs experience outdoor temperature extremes and other dangers that put their safety at risk unless we plan responsibly. We share with you some of the ways we help ensure you, too, will travel safely with your dog.
Given the primitive nature and innate intelligence of this breed of dog, we have included additional tips on outdoor safety for your dog, which even if not new information to you, may raise awareness for keeping your dog safe.
Striving to maintain optimal health of our dogs, we share some tips on general health care for your dog.
As we get more questions, we will keep this section of the website updated, so please contact us with your questions. We are here to help.
Messge from Finland

Hilkka from Finland e-mailed California Karelians to say:

"I saw your website (http://www.karelianbeardog.us/) and wanted to say thank you for a great website of California Karelians. I live in Finland with my two little boys (Juho, 4years old and Janne, 2years old) and with my Karelian bear dog, Ronja (now 1 year old).

I heard that some people think Karelian bear dogs are aggressive and a bad choice if you are looking for a family pet. But that is not right. Karelian Bear Dog is a great family pet if it has been socialized and it gets a lot of outdoor activities. Ronja has been very protective for her 'herd' (family). And so has been every Karelian bear dog I have known.

Your Karelians look so big and strong, so do the most of Karelian bear dogs here in Finland. Ronja is smaller, and slender than most of Karelians. She doesn't look as strong as she is. But she really is, mentally and physically, very strong dog.

It was so good to know that there is people who really wants to tell facts about this breed. Thank you!"